Ingredients: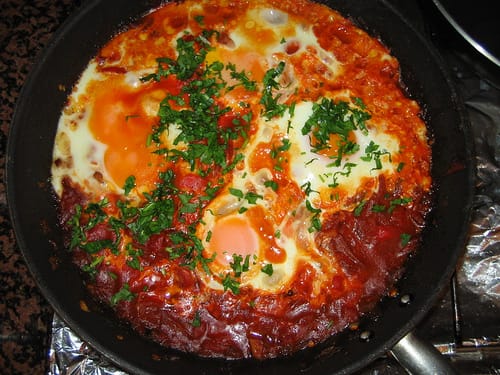 2 sweet red peppers
2 spoons of olive oil for frying (can be substituted with a low calorie olive oil pan spray)
1 medium onion
3 cloves of garlic
8 ripe tomatoes (Roma is the right size)
6 eggs
2 green hot chili peppers (add more or less according to taste)
1 spoon of tomato paste
1/4 cup fresh basil
1 tsp. of sweet paprika
Salt and pepper (according to taste)
Preparation:

1. Peel the onion and garlic then chop them both into very little pieces.
2. Clean the red peppers from seeds and cuts them into small cubes.
3. Clean the green chili peppers from seeds and cuts them into small cubes.
4. Cut the tomatoes into cubes.
5. Chop the basil
6. Heat the olive oil in a frying pan, and then add the onion and garlic. Fry them until the onion is golden clear.
7. Turn the heat down to medium, add the red peppers, mix, and continue frying covered for about 3 more minutes. Mix a couple of times during that time.
8. Add the tomatoes, chili peppers, tomato paste, paprika, and then mix. Cover the pan, and simmer the mixture over low heat for 15 minutes.
9. Add the basil, salt, pepper, and then mix. Gently crack open the eggs without breaking the yolks, and drop them on the vegetables.
10. Cover the pan and continue cooking the mixture for another 5 minutes.
Serve with warm pita bread.